Please be patient this page is graphic intensive!
Spice's Delilah V Infinity
Thor-Rhodesian Ridgeback age aproximately 11 years,
(rescue dog, Summer 1993-August 2000 ),
May he always be in our hearts!
Delilah age 4 months,
Cinder (rescue dog) age 2 years.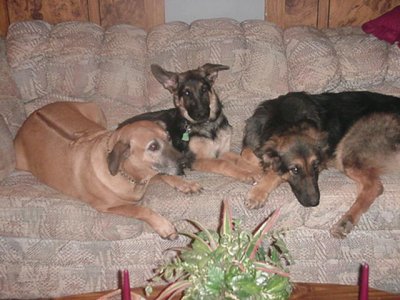 Delilah age 5 months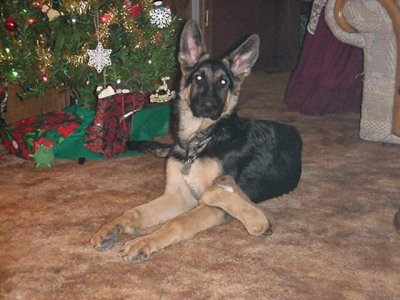 Delilah age 8 months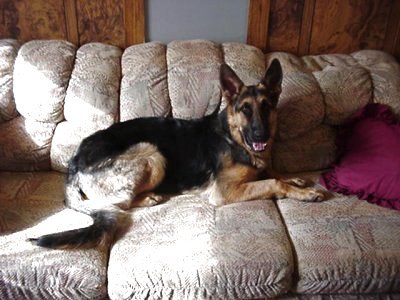 Delilah 9 months old.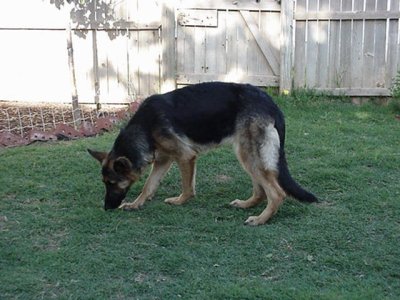 Delilah 11 months old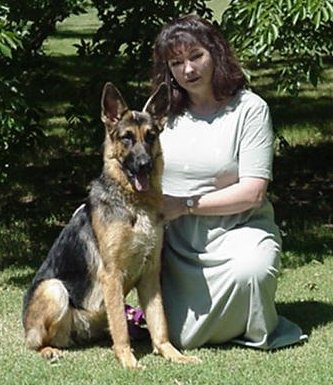 Delilah at 1 year and 1 week old stacked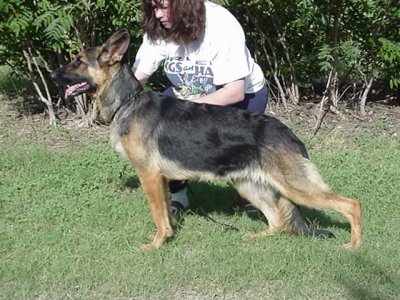 Delilah at 15 months old, Cinder age 3 years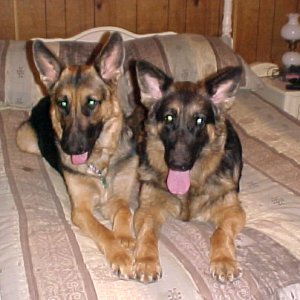 Delilah moving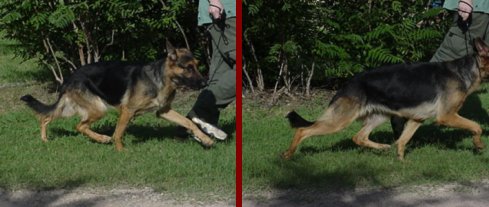 Pedigree for: Spice's Delilah V Infinity
German Shepherd Dog
Born: July 7, 1999
Spicelynn2@yahoo.com
Sire
Lanehaus 'One Ryker V Windsky
Sire
Cross Timbers Clihu Regis OFA
Sire
Ch. Leiter's Excaliber OFA ROM
Sire
Proven Hill's Justin OFA
Dam
Weicho's Cassino OFA
Dam
Cross Timber's Patty Melt OFA
Sire
Ch. Weicho's El Dorado OFA
Dam
Cross Timber's Pascal OFA
Dam
Hello Dolly of Clihu
Sire
Ch. Survival Windigail's High Flyer OFA ROM
Sire
Sel. Ch. Nike Clayfield Andretti OFA ROM
Dam
Hoheneichen Cassandra Survival OFA
Dam
Nathan-Mars Elegance V Chihu OFA
Sire
Ch. Green Oaks Captain Crunch OFA
Dam
Kemarok Cherioca
Dam
Ravinhaus Cinderella V Clihu OFA
Sire
Ch. Peddacre's Crackerjack OFA
Sire
Ch. Hoheneichen Conan Survival OFA ROM
Sire
Am/Can. 4XSel. Ch. Stuttgart's Sundance Kid OFA ROM/ROMC H/E
Dam
Hoheneichen Bliss OFA
Dam
Peddacre's High Falutin OFA
Sire
GV. Ch. Cobert's Trollstigen OFA ROM/ROMC
Dam
Peddacre's Candy Kisses OFA
Dam
Ravinhaus Charity V Clihu OFA
Sire
Ch. Cross Timber's Basic
Sire
Sel. Ch. Nike Clayfield Andretti OFA ROM
Dam
Clayfield Meadows Tansy OFA
Dam
Al Kay's Elegance of El Dorado OFA
Sire
Ch. Charbu's Killowatt OFA
Dam
Mialetta of Sanzano CDX
This pedigree page was built for free at SitStay.com